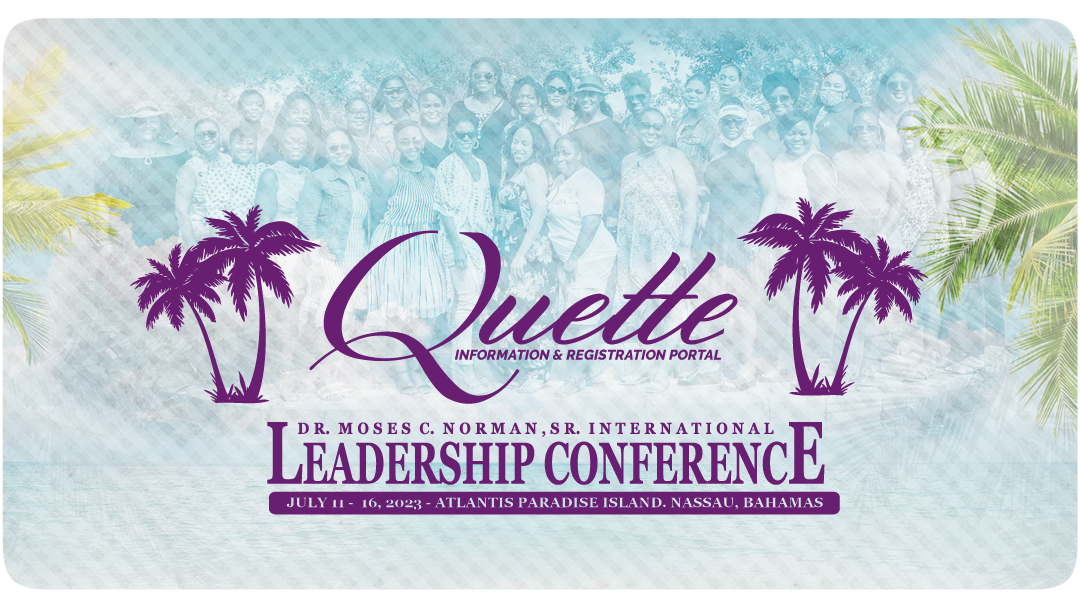 Welcome Quettes
We are excited to welcome you the 2023 Dr. Moses C. Norman Sr. International Leadership Conference which will be held on July 13-16, at the Atlantis Paradise Island in Nassau, Bahamas.
Registration covers a Souvenir Gift, Credentials, Transportation for the Friday Excursion(s), the Meet and Greet Breakfast, and the Ronald E McNair luncheon.
Please contact Nicola Knowles ([email protected]) for any questions regarding the agenda or activities.
Look forward to seeing you in the Bahamas!
Quette Agenda
Thursday. July 13, 2023
6:00 – 7:00pm
Grand Basileus Welcome Reception
Imperial Ballroom F&I
Friday. July 14, 2023
7:15am – 7:45am
Morning Meditation and Prayer
Imperial Ballroom E
8:00am – 9:00am
Meet and Greet Breakfast and Registration Check-In
Poseidon Room (Please bring identification to pick up souvenir gift)
9:15am – 11:15am
Bahamian Exploration Options
(A) Bus Departs to Straw Market for Souvenir Shopping
(Pick up is in the lobby of the Coral Tower)
(B) Bus Departs for City Tour
(Pick up is in the lobby of the Coral Tower)
12:00am – 1:00pm
Lunch on Your Own (Atlantis)
(Lunch is not included in registration)
1:30pm – 3:30pm
Omega Psi Phi Service Award Presentations
Imperial Ballroom E
Saturday. July 15, 2023
6:00am – 7:30am
Fun Run/Walk (5K, National Beach Soccer Stadium, Meet in Coral Lobby 5:30am)
8:00am – 11:00am
Enjoy Paradise Island at Atlanta – To book excursion
please visit https://www.atlantisbahamas.com/things-to-do
1:00pm – 3:00pm
Ronald E. McNair Undergraduate Luncheon
Grand Ballroom
9:30pm – Until
Boat Ride
To purchase ticket please visit https://pixichapter.com (Details are located on website)
Sunday. July 16, 2023
Depart for Home
Safe Travels
© 2023, Omega Psi Phi Fraternity, Inc. or its affiliates