"Understanding Mental Health"
Replay – Live Stream Webinar series
Hosted by Dr. David E. Marion, 41st Grand Basileus of Omega Psi Phi Fraternity, Inc.
The purpose of the Rooted in Research webinar series is to provide a platform to allow the National Leaders of the NPHC organizations to address topics and share information with large audiences of individuals from underrepresented populations of the United States.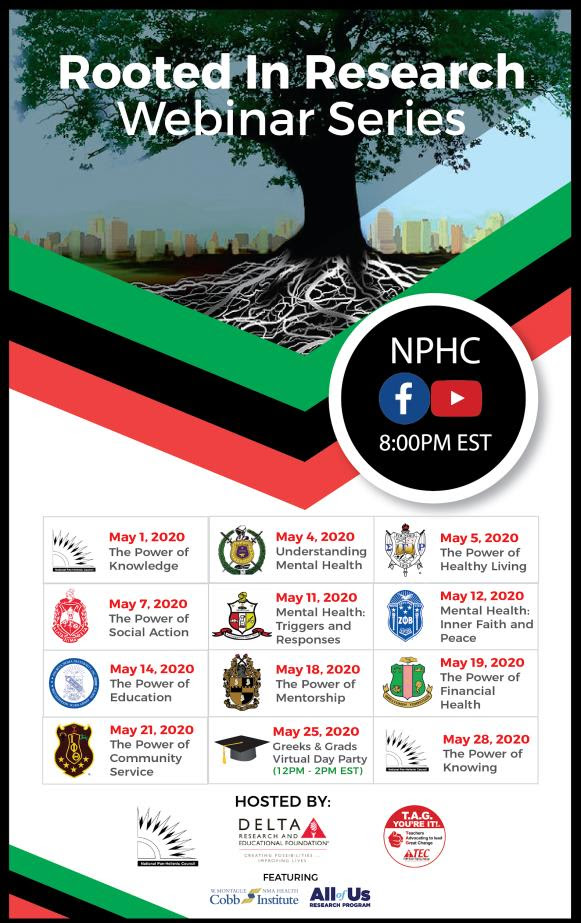 Brother, You're on My Mind
Every year, more than 40 million Americans struggle with mental illness. African American men are as likely as anyone else to have mental illness, but they are less likely to get help.
Depression and other mental illness can be deadly if left untreated. Suicide is the third leading cause of death among African Americans 15 to 24 years old.
Untreated mental illness can also make African American men more vulnerable to substance abuse, homelessness, incarceration, and homicide.
Omega Psi Phi Fraternity, Inc., and NIMHD have launched Brother, You're on My Mind: Changing the National Dialogue Regarding Mental Health Among African American Men, an initiative to help start conversations about mental health.
This initiative has two major goals:
Goal 1: To collaborate on efforts to educate Omega members, their families, and related communities on the effects of depression and stress.
Goal 2: To communicate the importance of seeking help for mental health problems and to encourage affected individuals to get information from their health care providers and others in order to obtain appropriate treatment.
BYOMM
This initiative will use a variety of activities to raise awareness of the mental health challenges associated with depression and stress that affect African American men and their families. Omega members are asked to:
NIMHD's ROLE
NIMHD will lead the development of materials about depression and stress that are based in the science of mental health. The materials will be disseminated by Omegas through national, regional, and chapter meetings and events. NIMHD will also support an evaluation to determine how well the initiative is working and will connect Omegas with other resources, including mental health experts who can speak at events.
ROLE OF OMEGA CHAPTERS
Omega chapters will be encouraged to participate in a variety of ways:
Find their local (state or county) mental health resources and providers.
Have a mental health professional speak during a chapter meeting to discuss depression.
Display and distribute print materials at key locations (e.g., barbershops, churches).
Participate in a health fair and distribute materials.
Work with congregations and health ministries to focus on mental health.
Develop local partnerships that make larger workshops and a wider impact possible.
Encourage local mayors and city officials to establish proclamations on men's mental health.
MENTAL HEALTH RESOURCES