Talent Hunt
The function and nature of the Talent Hunt Committee are to provide guidelines and assistance to local, state, and district chairmen in their search and presentation of the best available talent within their respective areas. The local chapter provides the original impetus for state and districts competitions and the International Talent Hunt Demonstration. It is significant that chairmen at all levels are selected with great care and have general familiarity with the categories of artistry represented.
The general guidelines for judges, all participants and tabulators are of vital importance to the success of Talent Hunt events at all levels. The equipment provided and the types of facilities used are critical to improving the quality of the students' performances. While the means of financing Talent Hunts may vary from location to location, it is a necessary and important phase of planning and implementing the best Talent Hunts possible.
The intent of this workbook is to provide the necessary information that will be needed on all levels of operation. To this end, it is expected that no individual(s) or chapter will operate a Talent Hunt in the name of Omega Psi Phi Fraternity, Inc. at any level without the use of these guidelines with strict adherence to the information contained herein. The failure to adhere to said guidelines would rule an event invalid.
International Talent Hunt Demonstration – 2023
All previous documents are obsolete.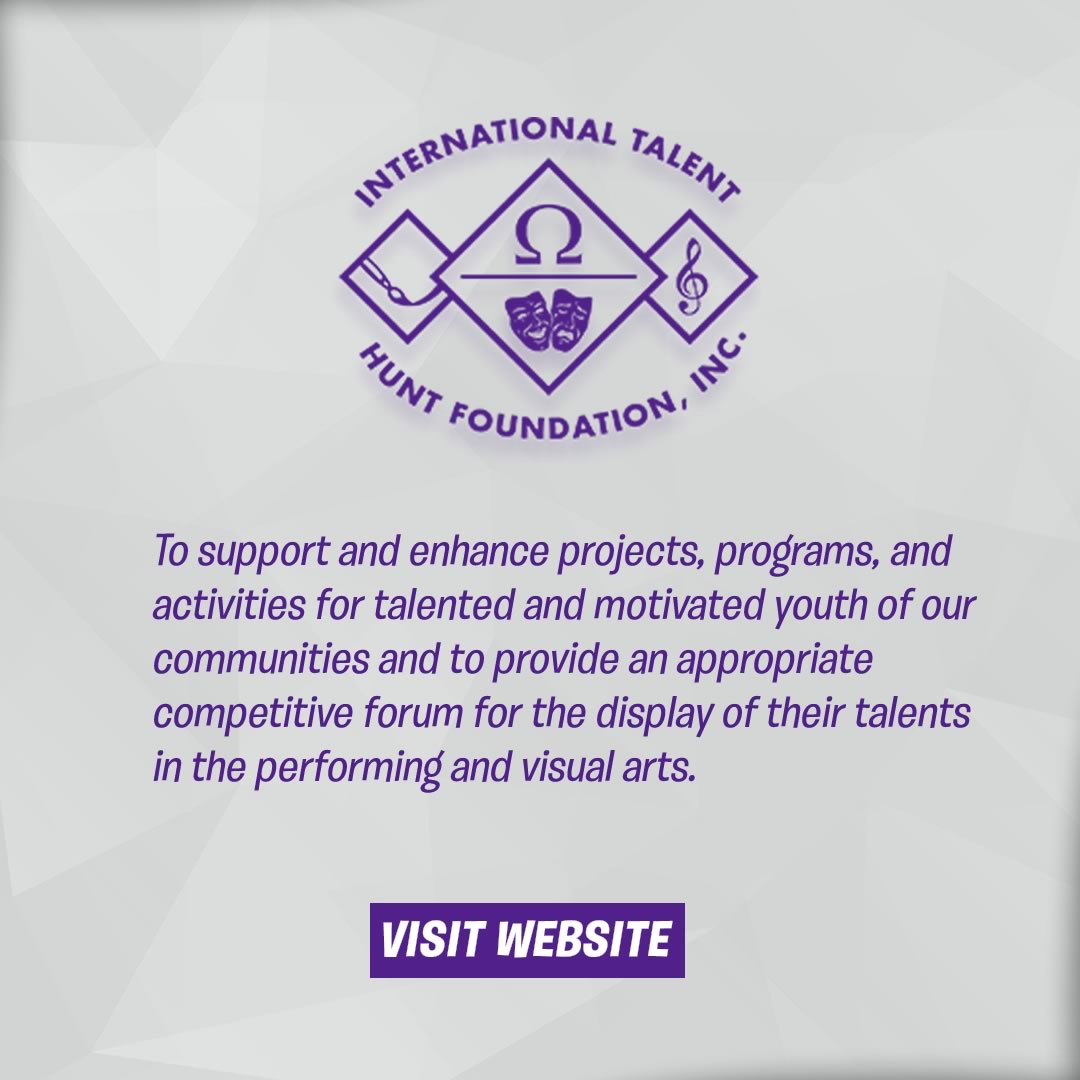 International Talent Hunt Committee 2022 – 2023
Guideline Review and Revision Committee
Brother Larry C. Pough – Chairman
Brother Carlton Lampkins – Vice-Chairman
Brother Michael L. Fletcher – 1st District Chairman
Brother Andrew J. Huff, Jr. – 2nd District Chairman
Brother Owen Nixon – 3rd District Chairman
Brother Mark C. Shaw – 4th District Chairman
Brother Mal Matthews – 5th District Chairman
Brother Willie Forrest, Jr. – 6th District Chairman
Brother David Carter – 7th District Chairman
Brother Verne Wilson – 8th District Chairman
Brother Rod Delph – 9th District Chairman
Brother Jeffrey D. Smith, Sr. – 10th District Chairman
Brother JD McDowell II – 12th District Chairman
Brother Cortez Pree – 13th District Chairman
Brother Crispin A. Abad, Sr. –Member at Large 3rd District
Brother Charles L. Duke – Member at Large 5th District
Brother Paul Anderson II – Member at Large 6th District
Brother Galvin Crisp, Jr. – Member at Large 6th District
Brother Ernest Goode, Jr. – Member at Large 9th District