Welcome
Vendors – Please be advised that you must be issued a vendor's contract to: (1) manufacture or sell retail products bearing Omega Psi Phi Fraternity, Inc. ("OPPF") trademark/trade name, (also known as paraphernalia); and/or (2) sell paraphernalia or different items at any of the OPPF public functions.
The 2023 Vendor Application Registration period is now closed. If you are interested in becoming a vendor for the remainder of 2023, please send an email to [email protected]. The 2024 Vendor Application period will open December 21, 2023. All contracts expire December 31st annually
Certificate of Insurance
What is a Certificate of Insurance (COI) and Why Do I Need One?
A COI is a statement of coverage issued by the company that insures your business.
Usually no more than one page, a COI provides a summary of your business coverage.
It serves as verification that your business is indeed insured. We request a COI as a condition of issuing you a Vendors's License.
Where can I get a COI
You can get one from your insurance company. Contact your insurance agent or broker and they can walk you through the process in just a few minutes.
What are Omega Psi Phi Fraternity, Inc.'s COI requirements
A Certificate of Insurance ("COI") must be submitted evidencing a minimal limit of
One Million Dollars ($1,000,000.00) for each occurrence and
Two Million Dollars ($2,000,000) Aggregate and product liability coverage.
The certificated holder must be Omega Psi Phi Fraternity, Inc. 3951 Snapfinger Parkway Decatur Georgia 30035.
The COI must name the Omega Psi Phi Fraternity, Inc. and its unincorporated Chapters as an additional insured.
Do you have an example of a COI:
Sure. Your insurance provider's COI may look a bit different than the example. That is ok, as long as the limits and the certificate holder and description matches the requested limits and language above (and in the image below).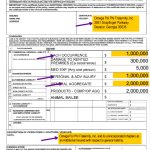 2022-2023 Documents
Interested in applying for a Vendor License? Read these documents first:
2023 District Meeting Schedule
Tentative
1st District
April 20 – 23, 2023
Omni New Haven Hotel
New Haven, CT 06510
Website
2nd District
April 20-23, 2023
Wyndham Hotel Grand Hotel
Pittsburgh PA
Website
4th District
April 27 – 30, 2023
Embassy Suites by Hilton Charleston
Charleston, WV 25301
Website
5th District
Mar 30 – Apr 2, 2023
Embassy Suites by Hilton Nashville SE
Murfreesboro, TN
Website
6th District
Apr 20 – 23, 2023
Le Méridien Charlotte
Charlotte, NC
Website
7th District
Mar 16-19, 2023
Embassy Suites by Hilton Huntsville
Huntsville, AL
Website
8th District
April 27 – 30, 2023
Stoney Creek Hotel , Kansas City
Independence, MO
Website
9th District
Mar 29 – Apr 2, 2023
Cox Business Convention Center
Tulsa, OK
Website
10th District
April 27-30, 2023
Minneapolis Marriott City Center
Minneapolis, MN
Website
12th District
May 4-7 May 2023
Anchorage, AK
Website
13th District
July 11 – 13, 2023
Atlantis Bahamas
Paradise Island, Bahamas
Website