Omega Disaster Preparedness
and Emergency Relief Team
Mission
We are excited to announce the formation of the Omega Disaster Preparedness and Emergency Relief Team. This team was formed to provide brothers with the necessary information to be prepared for an impending disaster as well as provide additional information concerning relief following a disaster. We have aligned ourselves with organizations such as the Red Cross, the National Weather Service, Volunteer Organizations Active in Disaster (VOAD), and FEMA to provide brothers with the most up to date information to disseminate.
Please contact your State's Emergency Management Agency via the link below. These agencies work with local, State, Tribal and Federal authorities; private-sector partners; and private nonprofits (PNPs) in order to prepare for, prevent, respond to, recover from and mitigate against future emergencies and disasters.
Covid-19 Resources
Hurricane Resources
Flooding Resources
Emergency Alerts
Federal Resources
Other Emergency Resources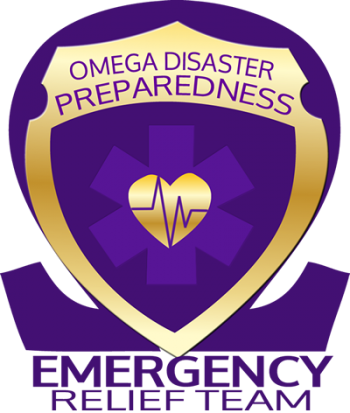 Storm Update
WASHINGTON — FEMA announced today that federal disaster assistance has been made available to the state of Mississippi to supplement state, tribal and local recovery efforts in the areas affected by severe winter storms from Feb. 11-19, 2021.
Federal funding also is available to state, tribal and eligible local governments and certain private nonprofit organizations on a cost-sharing basis for emergency work and the repair or replacement of facilities damaged by the severe winter storms in Adams, Attala, Choctaw, Claiborne, Copiah, Covington, Franklin, Grenada, Hinds, Jasper, Jefferson, Jefferson Davis, Kemper, Lafayette, Lauderdale, Lawrence, Leake, Lincoln, Neshoba, Newton, Noxubee, Pike, Rankin, Scott, Simpson, Smith, Tallahatchie, Walthall, Warren, Winston and Yazoo counties and the Mississippi Band of Choctaw Indians.
Federal funding is also available on a cost-sharing basis for hazard mitigation measures statewide.
Brett H. Howard has been named as the Federal Coordinating Officer for federal recovery operations in the affected area. Howard said additional designations may be made at a later date if requested by the state and warranted by the results of further assessments.
WASHINGTON – FEMA announced federal emergency aid has been made available in areas affected by a severe winter storm beginning on Feb. 11, 2021 and continuing.