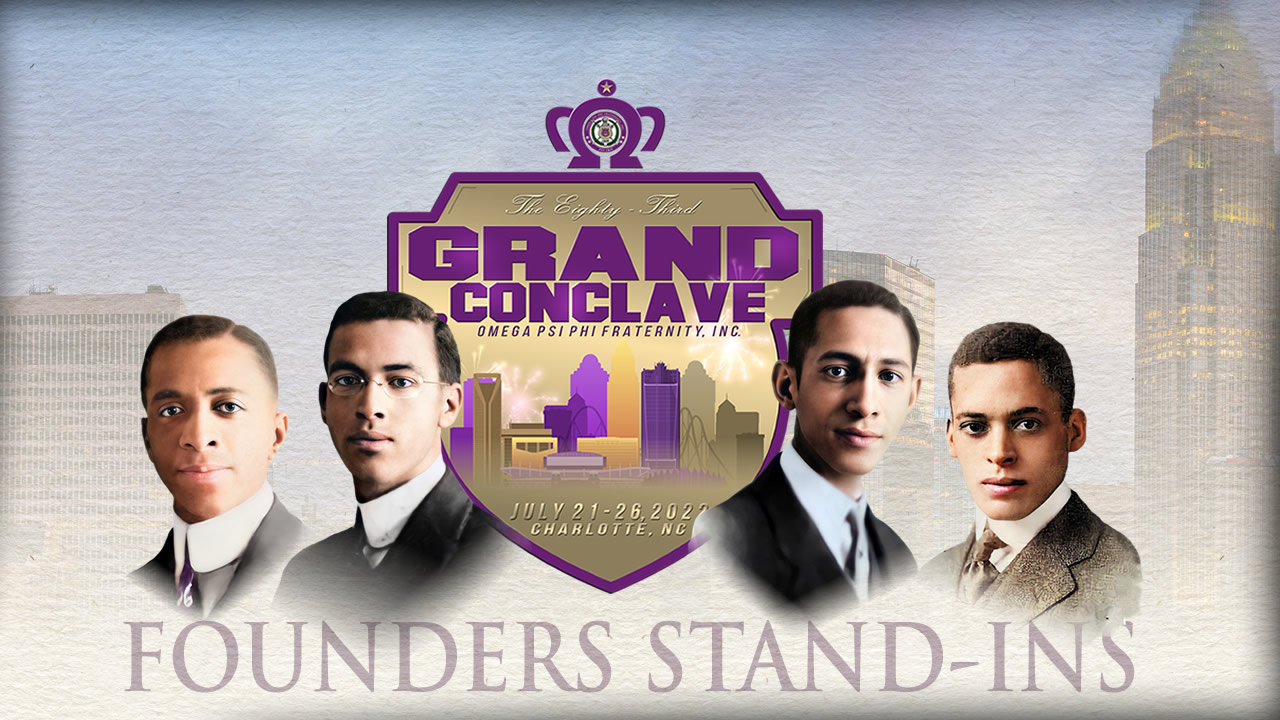 ABOUT
Our Noble Founders, Professor Frank Coleman, Bishop Edgar Amos Love, Dr. Oscar J Cooper, and Dr. Ernest E. Just, earnestly prepared members of our esteemed fraternity to be leaders of social change and uplift throughout popular society.
The most inspiring and significant aspect to me about their vision is that they embraced this opportunity to serve, as friends. It is because of this enduring friendship that even today, we continue to serve with diligence and passion, providing resources and unfettered support to the many communities in which we reside.
As we convene in their honor at the 83rd Grand Conclave in Charlotte, North Carolina, IHQ has partnered with Omega Charities, Inc (a 501c3) to provide an opportunity for you to stand in their stead. We are reintroducing our Founders Stand-In sponsorship opportunity. Members who agree to participate as Founder Stand-In are afforded the same opportunities that would have been afforded our revered Founders.
SPONSORSHIP
The Founders Stand-In initiative is a tax-deductible sponsorship for $30,000 and will be offered to 4 brothers on a first-come, first-serve basis.  This opportunity is nonrefundable. Two ways to remit payment.

Click button below to Donate online 

Send a Certified Check made payable to:
Omega Charities, Inc.
3951 Snapfinger Parkway, Suite 202
Decatur, GA 30035
The Stand-In Sponsorship Opportunity consists of:
You will receive an All-Access pass to every event held at the 83rd Grand Conclave hosted by your International Headquarters (IHQ).
You are entitled to VIP Transportation Services: which includes a black car service that will transport you from your home to the airport. Additionally, you will receive a first-class airline ticket to and from Charlotte, North Carolina. Black car transfer service from the airport to your hotel will also be provided. You will be greeted as one of our Founders would be with expedited hotel check-in. Throughout the Conclave and during select hours, you will have VIP access to transportation as needed.
Your housing accommodation will consist of a Club-Level Executive King room at the Omni Hotel from Thursday, July 21, 2022, through Tuesday, July 26, 2022.
You will be provided access to a VIP telephone line for any concierge service.
Your registration for the 83rd Grand Conclave will of course be complimentary.
You will be provided special seating at all IHQ sponsored programs, meal events, and receptions.
You will be duly recognized during the Founders' Banquet.
Your profile and biography will be emphasized on our Fraternal website (www.oppf.org) and in a future edition of the Oracle Magazine.
You will be listed as a sponsor for the Weekend Experience Reception to be held at the Marriott Hotel on Saturday, July 23, 2022, and provided an opportunity to offer remarks.
You will be provided with a complimentary opportunity to play golf during the Grand Conclave Golf Tournament to be held on Friday, July 22, 2022.
You will be provided with limited-edition Omega Psi Phi Fraternity, Incorporated paraphernalia, and memorabilia.